Take a Hint, Dani Brown | Talia Hibbert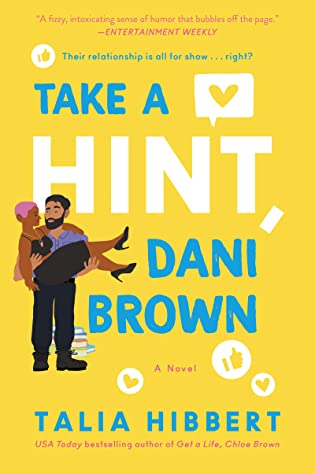 Take a Hint, Dani Brown (The Brown Sisters, #2)Author:
Talia Hibbert
Series:
The Brown Sisters #2
Published:
Avon
Publication Date:
June 23, 2020
Genres:
Romance
Format:
eBook
Pages:
361
Source:
Library
Goodreads
Talia Hibbert returns with another charming romantic comedy about a young woman who agrees to fake date her friend after a video of him "rescuing" her from their office building goes viral...
Danika Brown knows what she wants: professional success, academic renown, and an occasional roll in the hay to relieve all that career-driven tension. But romance? Been there, done that, burned the T-shirt. Romantic partners, whatever their gender, are a distraction at best and a drain at worst. So Dani asks the universe for the perfect friend-with-benefits—someone who knows the score and knows their way around the bedroom.
When brooding security guard Zafir Ansari rescues Dani from a workplace fire drill gone wrong, it's an obvious sign: PhD student Dani and ex-rugby player Zaf are destined to sleep together. But before she can explain that fact, a video of the heroic rescue goes viral. Now half the internet is shipping #DrRugbae—and Zaf is begging Dani to play along. Turns out, his sports charity for kids could really use the publicity. Lying to help children? Who on earth would refuse?
Dani's plan is simple: fake a relationship in public, seduce Zaf behind the scenes. The trouble is, grumpy Zaf's secretly a hopeless romantic—and he's determined to corrupt Dani's stone-cold realism. Before long, he's tackling her fears into the dirt. But the former sports star has issues of his own, and the walls around his heart are as thick as his... um, thighs.
Suddenly, the easy lay Dani dreamed of is more complex than her thesis. Has her wish backfired? Is her focus being tested? Or is the universe just waiting for her to take a hint?
The Review
Dear Reader, I have a confession.
I am a Talia Hibbert fan. And I have been a fan for years.
My descent into fandom started one winter when I wanted a seasonal Christmas read and picked up Merry Inkmas. From there, I read two more of her books back to back. They weren't without issues because no book is perfect. I knew she was going to be an auto-read author.
The announcement of Get a Life, Chloe Brown, was the only time I questioned my fandom. I know you're asking why, Dear Reader. The other romances I read from her weren't rom-coms. They weren't without humor, but weren't rom-coms. And I didn't know if I would enjoy Talia Hibbert, the rom-com author.
When Get a Life, Chloe Brown started making waves, I did my best to avoid them. But as you can see, Dear Reader, the waves got me. I am here to tell you that while I loved Get a Life, Chloe Brown. I loved Take a Hint, Dani Brown even more.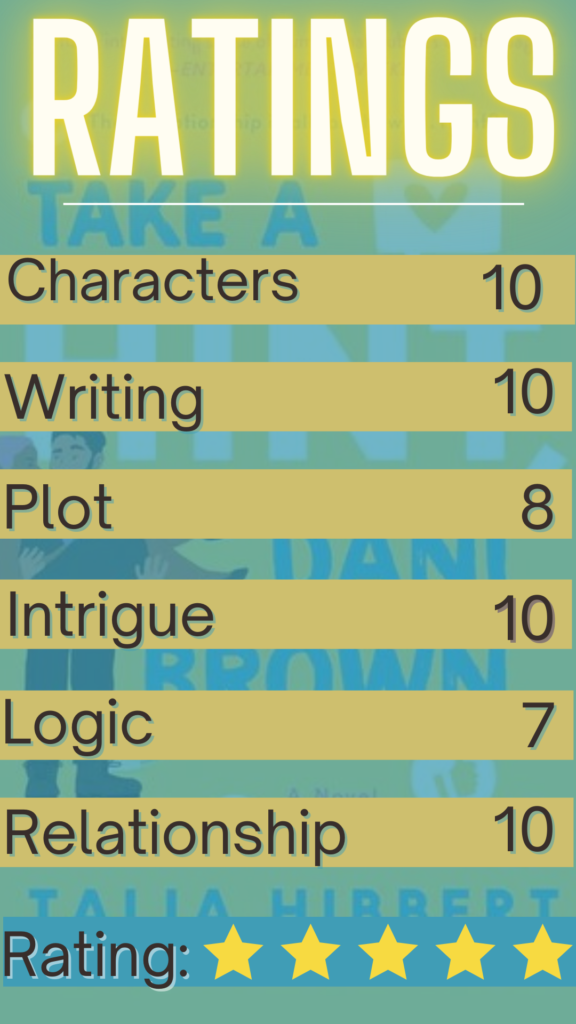 Where do I start with my stanning of Take a Hint, Dani Brown?
I can't decide. So I'll tell you Take a Hint, Dani Brown is the best romance I have read in a long time. Dani and Zafir were fully fleshed out, as I would expect from a Hibbert character. The rationale around Dani's internal conflict was a bit of a stretch for me. It provided a weak point for the third act break up but a good jumping off for her character growth. Zafir's internal conflict was done better than Dani's. When we meet him, Dear Reader, he has gone through a lot, but he has also done the work to overcome his inner demons.
The relationship between Dani and Zafir was swoon worthy. I loved the playfulness between the two of them. Dani's confidence flamboyant external natural contrasted well with Zafir's grumpy hard external. They are both basically sweet cinnamon rolls on the inside, makes it even better. The romantic banter in Take a Hint, Dani Brown done so well that was smiling and laughing out loud.
Dear Reader, I don't know if Eve Brown's romance will be able to top her sister's, but I am excited to find out.
Related Posts