Mini Review #2 | Romance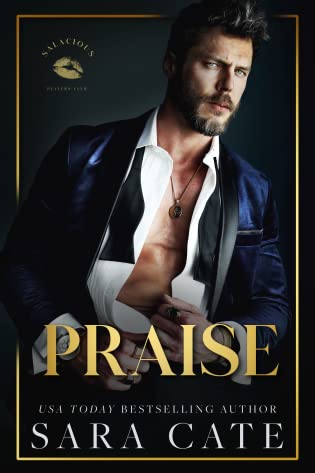 PraiseAuthor:
Sara Cate
Series:
Salacious Players Club #1
Published:
Self Published
Publication Date:
March 17, 2022
Genres:
Romance
Format:
eBook
Pages:
341
Source:
Kindle Unlimited
Goodreads
He calls me perfect.His flawless pet. His good girl.
Broken down and wounded by my emotionally neglectful ex, I wanted someone to tell me I was good enough.
Then, I stumbled into a new job with a boss who brings me to my knees—literally. He has me do things a real secretary would never do.
Emerson Grant tells me I'm more than just good enough. I'm worthy of his praise.
There are a million reasons why I should stay away. The owner of the Salacious Players' Club is not just my new boss, he's twice my age.
And my ex-boyfriend's father.
With him, I am treasured. I am adored. I am his.
I'm a good girl, but I'm falling for the wrong man.
Emerson Grant knows what he wants—And he wants me.
So how far will I go to hear his approval?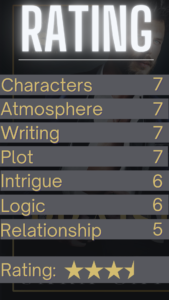 Praise is a semi-kinky new adult erotic romance. If you don't mind age gap romances and can get past the heroine dated the hero's son, this is worth the consideration. I encourage you to give this a go, because Emerson is hot and worth the read. The kink is light, praise kink, but other kinky acts are on the page. Emerson runs an elite sex club. Praise fails in things outside of the steamy. I wasn't completely sold on Charlie and Emerson's romance since most of the interactions on the page were sex adjacent. I could understand their lusty feelings for each other, but Sara Cate failed to show me why they loved each other. And there was the problem with a lack of character growth. Charlie and Emerson are the same characters at the start of the book as they are at the end. They have no internal growth. All their changing dealt with solving the main plot issue, Emerson's need to reconcile with his son. Even that plot was a little thin. It seemed like something thrown in because readers expect there to be some plot in a romance, especially a steamy one. Otherwise it is just erotica, which there is nothing wrong with. I will continue with the Salacious Players Club series because some of the secondary characters were intriguing. I will go in knowing what to expect from Sara Cate, stories heavier on the erotic lighter on the romance.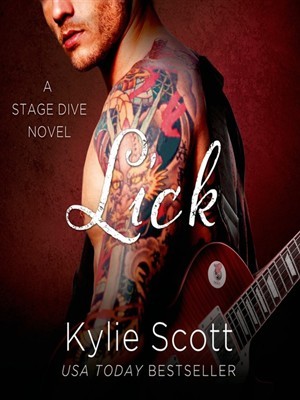 LickAuthor:
Kylie Scott
Narrator:
Andi Arndt
Series:
Stage Dive
Published:
Macmillan Audio
Publication Date:
February 21, 2014
Genres:
Romance
Format:
Audiobook
Length:
9 hours 54 minutes
Source:
Library
Goodreads
Waking up in Vegas was never meant to be like this.
Evelyn Thomas's plans for celebrating her twenty-first birthday in Las Vegas were big. Huge. But she sure as hell never meant to wake up on the bathroom floor with a hangover to rival the black plague, a very attractive half-naked tattooed man, and a diamond on her finger large enough to scare King Kong. Now if she could just remember how it all happened.
One thing is for certain, being married to rock and roll's favourite son is sure to be a wild ride.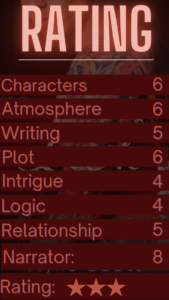 Lick is a new adult rock star romance. The first installment in Kylie Scott's Stage Dive series and long story short, I really wasn't impressed. The audiobook narration was the only standout element in lick. Andi Arndt is a great narrator. The one criticism I had about Arndt's narration is the voice she used for Evelyn sounded like a 16-year-old. Evelyn is 21, which is a slight issue in a romance novel. But it was minor, and I understood the fact that Arndt was trying to convey that Evelyn was young. I wish my other issues with this series were just as minor. My issues boiled down to one thing: it was generic. Everything about this was generic, characters, plot and conflict. All of it was generic and boring. Evelyn and David didn't have a personality. And secondary characters made them feel even more bland. The plot was thin and unexciting. It was a plug and play Las Vegas romance plot with very little conflict. A majority of the story took 6 days from the initial meeting until the third act breakup. The first two days, the characters were barely talking to each other. And by day 6 Kylie Scott wants readers to believe that David and Evelyn were in love. Lick made me question if I should continue on with the series. All the books can't be boring, right?
Related Posts