Mini Review #1 | Historical Fiction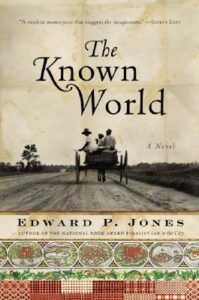 The Known WorldAuthor:
Edward P. Jones
Published:
Amistad
Publication Date:
August 14, 2003
Genres:
Historical Fiction
Format:
Hardcover
Pages:
388
Goodreads
The Known World is a hard book to review because it inhabits a weird space between being stellar and average with no obvious flaws that I can put my finger on. It's just a good book.
Edward P. Jones's Pulitzer Prize-winning novel takes readers on a journey to Montgomery County, Virginia. While Montgomery County is a fictional place, Jones narrative makes readers believe it's real. The Known World is not the story of one person but many people, their pasts, presents and futures. It's the story of slavery and the complex and constraining hold it had on everyone's life, Black, White, and Native.
The Known World should not be consumed in huge chunks. Instead, consumed chapter by chapter with breaks in between. Readers will need a moment to reflect on the picture that Jones reveals slowly in each chapter. The Known World is a complex puzzle, Jones doles out information in pieces without regard to chronological order. He tells the story as he sees fit, word by word, sentence by sentence, paragraph by paragraph, and chapter by chapter. Until readers finally reach the conclusion and can see how each piece fits together to tell the complex story of pre-Civil War Montgomery County, Virginia.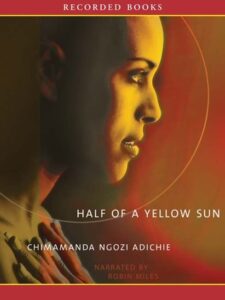 Half of a Yellow SunAuthor:
Chimamanda Ngozi Adichie
Narrator:
Robin Miles
Published:
Recorded Books
Publication Date:
March 28, 2011
Genres:
Historical Fiction
Format:
Audiobook
Length:
18:50
Goodreads
Chimamanda Ngozi Adichie's Half of a Yellow Sun is a historical fiction novel set during the Nigerian Civil War (1967 – 1970). Told in alternating view points, Half of a Yellow Sun is a complex novel. It's a about war, colonization, family, class, gender, and cultural identity.
The three main characters all have distinct voices, a feat sometimes hard for other authors to achieve. There's Olana the educated daughter of Chief Ozobia. Ugwu, the houseboy of Olana's boyfriend, Odenigbo. Richard Olana's sister, Kainene's English boyfriend. There is also a large cast of secondary characters readers get to experience through their eyes. Half of a Yellow Sun is a testament of Adichie's writing ability and Robin Miles narrating talent, I never once got any of the characters confused in this 19 hour long audiobook.
Set during a time of war, Half of a Yellow Sun is not an easy read. In fact, I stepped away from the audiobook from time to time before diving back in. Adichie and Miles guide readers through the three characters' lives as navigate the war, and the changes it brings.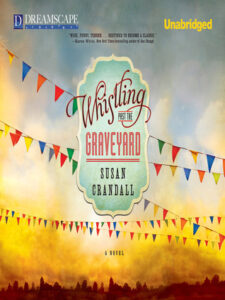 Whistling Past the GraveyardAuthor:
Susan Crandall
Narrator:
Amy Rubinate
Published:
Dreamscape Media
Publication Date:
July 2, 2013
Genres:
Historical Fiction
Format:
Audiobook
Length:
11:16
Goodreads
Susan Crandall's Whistling Past the Graveyard is set in the summer of 1963 in Mississippi. It follows Starla, who runs away after disobeying her grandmother and attending a Fourth of July parade. Eula, a black woman, offers Starla a ride. Once on the road Starla learns Eula is traveling with a white baby. From there the two go on a journey from Mississippi to Tennessee, where Starla learns the hard truth about race and family.
This had potential but ultimately Whistling Past the Graveyard is a white woman's feel good imaging of the south amid The Civil Rights Movement. It's heavy on the White Savior trope, this time the White Savior is the young protagonist.
The characters are unrealistic and inconsistent and not in the normal humans are complicated way. Eula fluctuates from having the intelligence child and needing Starla to instruct her on the most ordinary situations to transforming into a wise Negro woman dispensing life wisdom. At times she is so petrified she can't move or speak, but at other times she's a fearless mother bear willing to do anything to protect her young charges.
Amy Rubinate's narration couldn't save Whistling Past the Graveyard. Rubinate did a good job distinguishing each character's voice and switching up accents. The narration highlighted flaws in the writing. There was the frequently used phrase "red age" which will make readers eye twitch after a few hours.
Related Posts